The Cria Nursery
This year, we had quite a few crias – all healthy and adorable. Take a look at the crias below. If you're wanting more cria pictures (they are so adorable), you can click here to check out our 2011 crias.
Myla - Born on 5/23/2015
Marina (Rina) - Born on 5/17/2015

She is a true replica of her momma both in looks
and personality. Very sweet girl.

She is so laid back and definitely keeps an eye on what's going on around her. She is also known as my "Pig Pen". First one to roll in dirt/leaves.
Mitzi - Born on 3/10/2015
Adalyn - Born on 4/6/2015

What a beautiful cria she is and has grown into a stout solid girl.

She is a quiet girl, beautiful fiber on her,
and is almost a twin look-alike to Mitzi.
Zoltar - Born on 6/22/2015
Envy - Born on 9/15/2015

He was our only male cria in Spring 2015, and he loved being surrounded by the girls. He's now just a tad spoiled.

Her name is very appropriate for her. She is what
we call a "wow" cria and the personality to go with it!!

Cocoa – Born on 3/1/12

Nico – Born on 1/23/12


Cocoa is a character, full of energy and loves
to aggravate the girls and his buddies.


Nico is a quiet boy, excellent fleece coverage, and
look hard and you can see his beautiful eyes.
Trey – Born on 5/6/12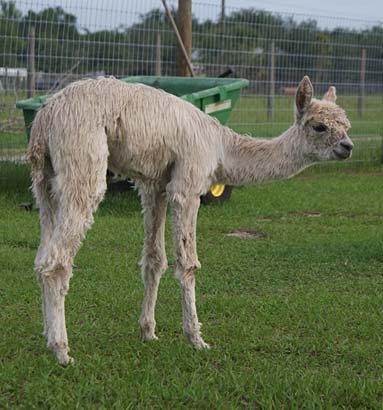 Trey is a beautiful boy, slightly shy but is
coming out of his shell as he gets older.
© 2011-18 Sweet Blossom Alpaca Farm. All rights reserved.